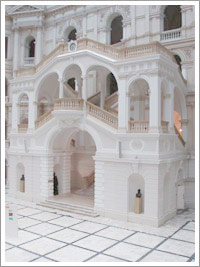 General Information
THE FOREIGN LANGUAGE CENTRE
Located at: Pl. Politechniki 1
00-661 Warszawa
phone: +48-22 629-61-53
phone/fax: +48-22 234-73-52
e-mail: sjo@sjo.pw.edu.pl
http://www.sjo.pw.edu.pl

Director
Lucyna SKWARKO, MA
Director of Studies
Mirosława Anna WOJTAŚ, MA
Director of Studies - other languages
Piotr CZARNECKI, MA
The list of all employees can be found here - in Polish. Here you can find the list of teachers who are faculty coordinators of language classes.
The Foreign Language Centre functions as an inter-faculty organisational unit of the University. It was established to teach students foreign languages and to develop their knowledge of foreign languages, as well as to test that knowledge as laid down by the University statutory requirements (e.g. qualifying exams for the student intake, practical work experience or scholarships abroad, final exams for doctoral graduates etc.).
Students may choose from the list of the following languages: English, German, French, Italian, Spanish, Russian and Polish (for foreign students). General language instruction is provided as well as that for special purposes (technical, professional and business).
All Warsaw University of Technology students are obliged to pass a foreign language university exam at the B2 level (Competence Levels of the Council of Europe) before the end of the 6th semester (or another time as specified by the Faculty).