POLISH FOR FOREIGNERS AT WARSAW UNIVERSITY OF TECHNOLOGY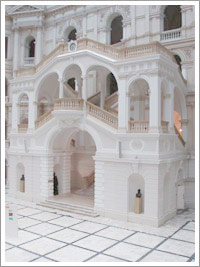 General information
POLISH COURSE – RULES AND REGULATIONS
The courses of Polish as a foreign language are aimed at foreign students and postgraduates studying at WUT irrespective of the kind of studies (B.Sc. studies in Polish and in English, Erasmus, Erasmus Mundus, exchanges). Students and PhD students from other universities in Poland are allowed to attend the courses following the permission of the FLC Director.
Students doing the B.Sc. can this way use the hours in the timetable of studies intended for foreign languages. Students of various exchanges as well as Erasmus participants from most faculties can use that way 60 hrs in the semester. Erasmus-Mundus students have their own groups organized by their faculties. In other cases a dean's permission for 30 or 60 hrs is necessary. In case of the lack of the faculty's permission for granting the extra hours the students should pay for the course – for students of WUT it is 300 PLN for 30 hrs in the semester /or 600 PLN for 60 hrs/.
The Polish language courses are run on the same basis as other languages in the Foreign Language Centre, after finishing the courses and doing the necessary tests the students are given end-of-semester credits. It is also possible for foreigners to choose Polish as a foreign language in which they are going to take the B2 exam. The courses are run on all levels (if an appropriate number of students registers for the course), including preparatory courses for the B2 exam on the Polish language.